NATURAL + UNIQUE + ECO-FRIENDLY
Pampering yourself is essential for your BODY + MIND + SOUL. Light a candle, enjoy a good soak & spoil yourself ~ you deserve it!
NATURAL + ORGANIC + CUSTOM SCENTED BY YOU!
WHAT'S YOUR SIGN?
Give the gift that will make an long lasting impression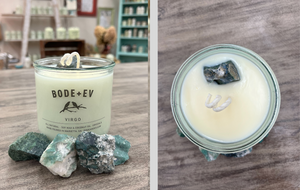 VIRGO: The Maiden - August 23 - September 22
LOYAL + KIND + INTELILIGENT, Virgos are loved for their empathic and reliable nature. Just like their sign, the maiden, Virgos are known for being perfectionists in all of their pursuits. Since being reliable is highly expected of themselves, they prefer earthy tones that are grounded and traditional in nature so we chose herbaceous natural scents + ingredients. Basil, cedar + bergamot are all beloved staples for Virgo and they LOVE anything botanical.  We created a bright, juicy + herbaceous blend of citrus + sweet basil, mint leaves + chamomile, agave nectar + tomato leaf combined with bergamot, lemon peel, orange zest mixed with thyme, lily of the valley, orange blossom, lavender, white pepper ended with driftwood, leather, oakmoss, amber + white musk.
Because Virgos are perfectionists, the constant battle between chaos and order can be energetically draining, they should work with crystals that help them with emotional balance and keeping themselves focused on their goals.
SHOP HERE
HAND POURED SOY WAX + COCONUT OIL CANDLES
SHOP IN PERSON
Made Mercantile - 8636 Main Street Woodstock, GA. Production Studio, Candle Making + Retail
Painted Tree Boutiques - 4651 Woodstock Rd. Roswell E7 + D18 My quaint little shop is a great way for me to bring all the smells + feels of EVERYTHING Bode+Ev to you! 
A Peach of a Party-108 Oak Street Roswell
Flying Solo - 420 W. Broadway New York
SMELL + BLEND + POUR
Grab a friend, or 14 and get creative with us! Join us for Fragrant Flames + Vino Vibes at Made Mercantile where you SMELL+BLEND+POUR your own signature soy wax candle while sipping on wine and enjoying lite apps + desserts from our friends at A Peach of a Party
We can also come to your home or office! Mobile candle making is available.
Want to book a private party of 15 in our space? Talk to me, let's do it!
BOOK NOW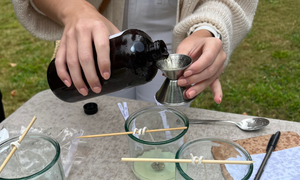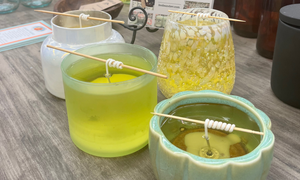 CANDLE REFILLS
Any vessel that can be made into a fragrant soy wax candle is such a great way to REDUCE WASTE and turn something old + dusty into something new + beautiful!
SHOP NOW
JUST FOR YOU!
Whether you are personalizing a special celebration or scent branding your business let us help you add that special unique touch, that will make a long lasting impression! We offer personalized labeling on all Bode+Ev refillable products, specializing in our soy wax + coconut oil candles, for any occasion large or small. 
LEARN MORE
MY STORY
Bode+Ev is based out of Marietta GA and is more of a "survival of the fittest" moment, turned kismet. Starting a business at this point in my life, during the height of a pandemic was definitely NOT something I had planned.
It all started...